2022 Capital Projects
Looking for updates on projects happening in or around Bayside? You have come to the right place! Below you will find information regarding various projects in our community.
I-43 North-South
The I-43 North-South Freeway is among the busiest routes in Wisconsin and is a critical Interstate link between southeast Wisconsin and the entire state. I-43 provides access to manufacturers, merchants, commuters and tourists within southeast Wisconsin, the Milwaukee metropolitan area, and other areas including Green Bay, Sheboygan, Manitowoc and Chicago.
WisDOT has maintained and rehabilitated the ramps, bridges, pavements and other structures on I-43 for 50 years. The North-South Freeway has exceeded its design life and it is no longer economical to maintain.
This project includes the expansion of I-43 from four to six lanes, the reconstruction of five existing interchanges along the corridor, ​a new interchange at Highland Road, and the replacement of the Union Pacific railroad bridge over I-43 in Glendale. The project also includes the expansion of a section of Port Washington Road in Glendale from two lanes to four lanes. During construction, the project will work to keep two lanes open in each direction - similar to existing conditions.
This project is being completed by the Wisconsin Department of Transportation. Visit their website for any updates or questions.
Brown Deer Road Sanitary Sewer Replacement
In 2019, MMSD completed a sanitary sewer evaluation and found that improvements to the existing sewer in East Brown Deer Road would reduce sewer backups.  The existing 15-inch sewer is being upsized to a 27-inch pipe to provide more storage and flow into the MMSD sewer system. Construction is anticipated to begin in Spring 2022 and be completed by the end of 2022.
This project is being completed by Milwaukee Metropolitan Sewerage District. Visit their website for any updates or questions.
2022 Road Project
The 2022 Road Resurfacing Project will take place in the area depicted below. Residents in the effected area will soon receive letters regarding culvert replacements. Work is scheduled to begin in mid-June.
Streets will be milled, graded, and repaved. The Village will address stormwater management and surface/standing water issues. This will include replacing driveway culverts, replacing Village stormwater infrastructure under the roadway, re-ditching the area so the grades/slopes allow for greater water flow, and landscape restoration. Replacement of culverts is determined by the Department of Public Works based on elevation, condition, and size of the existing culvert pipe.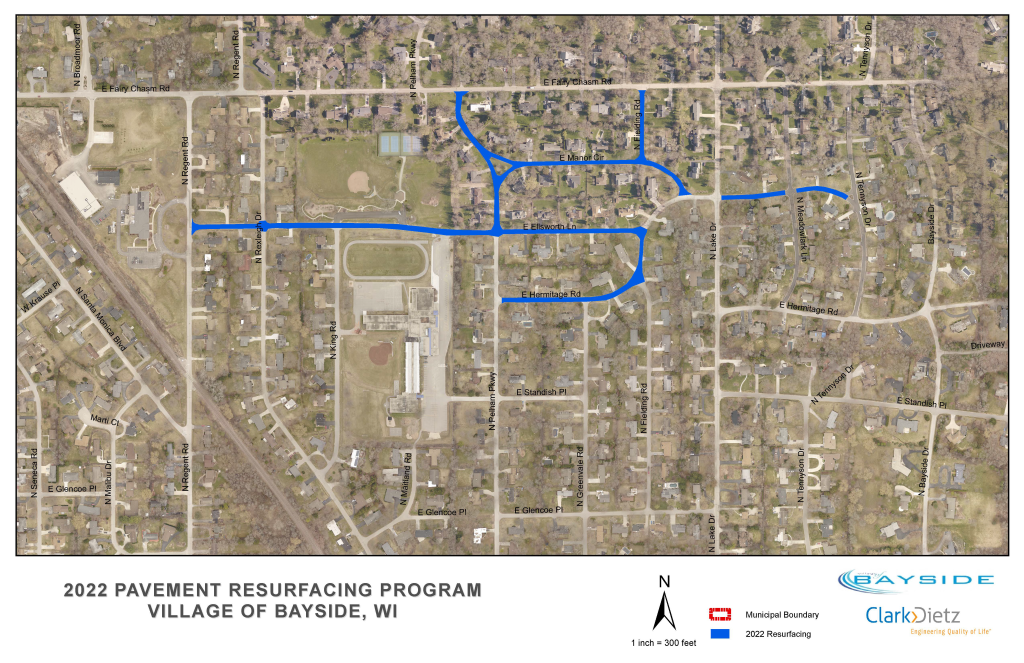 Ellsworth Park Playground
Ellsworth Park will be getting an upgrade this spring! The Village will be hosting a Community Build April 25-28. Click here to volunteer! The grand opening of the new playground upgrade will be on Saturday, May 21 from 2-9pm at the Bayside Beer Garden.
The new equipment will not be replacing the existing large structure, but will be added as supplemental structures.
Sanitary Sewer Lining and Manhole Rehabilitation
Lining work is anticipated to begin in late summer or early fall and manhole rehabilitation is anticipated to begin late fall or early winter. There are approximately 10,000 feet of main line and approximately 60 manholes.