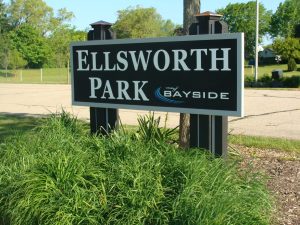 The Village of Bayside is selling
brick
s to be installed at Ellsworth Park. The
brick
s can honor your contribution to the lasting beauty of the Village, or they can serve as a memorial to a friend or loved one, or yourself!
Brick
s come in four sizes – the larger the
brick
s, the more space you have for your message.
Your contribution will help offset the costs of new playground equipment and the implementation of a green learning experience. Memorial
brick
s are durable, long-lasting, and visually impressive. Years from now, you'll be able to show your children and grandchildren your lasting legacy in Ellsworth Park.
4″ x 8″      |    $100   |  3 lines/14 characters per line
8″ x 8″      |    $250   |  6 lines/14 characters per line
8″ x 16″    |    $500   |  6 lines/28 characters per line
16″ x 16″  |  $1,000  |  12 lines/28 characters per line