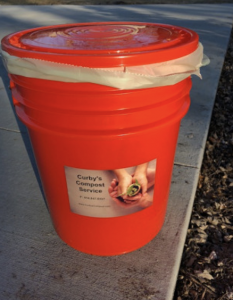 Did you know, over 25% of the waste stream could be composted? Curby's Compost Service is a curbside compost pickup service.
When you sign up, you will receive a container and a compostable bag to use throughout the week. During the week, add compostable items to the container (click 
here
 for a full list of what you can/can't compost) and then simply bring your container to the curb for pickup! Curby's will replace your filled container with a clean container and a new compostable bag. Pickup is between 7am and 5pm. You will be notified of your collection day when you receive your bucket. Members are billed on a monthly basis.
Members also receive a credit good toward one 25-pound container of Dirty Dirt's Artisan Blend Organic Soil every 6 months.