The Department of Public Works has begun the 2020 road resurfacing and stormwater management project.
The project boundaries include:
Lake Drive between Manor Circle on the south and Bay Point Road to the north;
Fairy Chasm Road from Fielding Road to the west and the east termini on the east; and
Bay Point Road between Lake Drive to the west and Tennyson Drive to the east.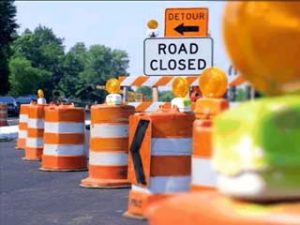 DPW is currently re-ditching within the project area and replacing identified driveway culverts. Additional underground stormwater work being performed by a private contractor on Lake Drive from Fairy Chasm Road to Manor Circle began last week. The road resurfacing with start after Labor Day and is anticipated to be completed by the end of September. All timelines are weather dependent.
Please note, whether the crews are working or not, the "road closed" and "road closed to thru traffic" signs are enforceable due to hazards left from construction equipment and rough roads.
"Road closed" signs mean just that, the road is closed.
"Road closed to thru traffic" signs mean that traffic with a destination within the construction zone may enter. It does not mean that they can "pass through" the construction zone.