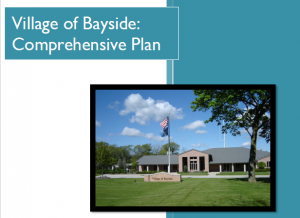 The Village has retained Vandewalle and Associates to assist in this process. The Comprehensive Plan is a document that is statutorily required. It was previously prepared around 2008-2010. In the mid-2000's, the State began to require municipalities to update their Comprehensive Plan every 10 years to look at the future of the community. We are at a time where we need to refresh our plan and although many parts may stay the same, this ties into the community conversation we have had for the past few years regarding the area at Port Washington Road and Brown Deer Road.  
Vandewalle and Associates has been retained to help facilitate the public conversation regarding this area, as well as, complete chapters of the Comprehensive Plan associated with that area.
Updates and documents can be found here!