Collection Guide: The 2023 Collection Guide is now available! View the Collection page for collection information, guidelines, and recyclable materials.
Resident Guide: The Village of Bayside Resident Guide has been created for residents with a variety of information related to the Village. While it does not contain everything about the Village, it does contain much of the most frequently requested information and provide a high-level overview of the Village, government, services, operations, FAQs, etc. We hope you all find this document useful! View here: Village of Bayside Resident Guide
Seasonal Resource Guide: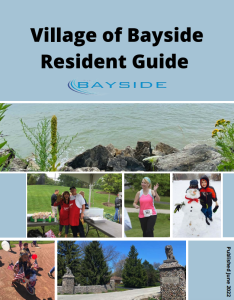 Many issues, concerns, or complaints we receive are repetitive in nature and often fluctuate and vary by season.  To help address these concerns, hopefully before they become concerns, we have developed a seasonal resource guide to help communicate with both our staff internally as well as the community on issues, concerns or questions that arise.  The guide is divided into seasons to help navigate the many issues we deal with on a daily basis and by season.