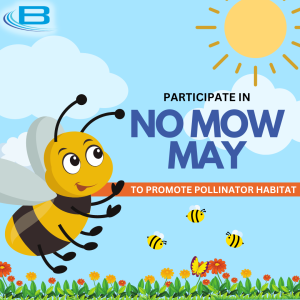 What is No Mow May? 
No Mow May is a conservation initiative that encourages people to stop mowing or mow less often for the month of May to create habitat and provide resources for bees and other early-season pollinators. This is particularly important in urban areas where floral resources are often limited. The Village of Bayside is proud to join a number of other municipalities in the No Mow May initiative.  
During the month of May, Bayside will suspend enforcement of long-grass rules, allowing property owners to delay or reduce lawn cutting to promote pollinator-friendly habitat early in the growing season. Participation is voluntary. However, participating residents should register their properties to help the village gauge interest in the program and also assist in defending participants from neighbor complaints.  
The Conclusion of No Mow May 
Depending on weather conditions, grass may be quite long by June 1 when the Village of Village of Bayside's tall grass ordinance enforcement will continue. Here are some tips to keep in mind for encouraging pollinators and maintaining a healthy lawn for the rest of the season: 
Do not use pesticides on lawns when encouraging pollinators. 

 

Adjust the mower to the highest setting and make the first pass to reduce the grass height. After you've reduced the grass to a more manageable height during the first pass, change the mower setting by lowering the height of the blade before making a second pass. 

 

Do not cut more than one-third of the grass blades at a time in a single mowing. For example, if your lawn is six inches tall, do not remove more than two inches of length off the leaf blades. This helps prevent root stress and promotes turf vigor. 

 

Rake out and/or remove grass clipping clumps that may result from mowing to promote lawn health.

 
Additional Resources 
These links offer more information on how to help pollinators: 
To become a 2023 No Mow May participant: 
Bayside residents must register through Access Bayside no later than May 7, 2023.